Valget 2021 i Israel
En oversigt over de mange politiske partier og lister i Israel, der deltog i valget (nr. 24) til Knesset (det israelske parlament) d. 23. marts 2021, valglinks og valgresultatet.
Valget 2021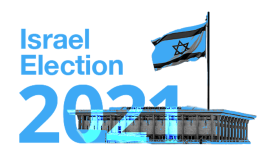 Det næste parlamentsvalg skulle ellers først have været afholdt senest i marts 2024, da der skal være valg hver fjerde år, men ofte bliver der udskrevet valg i utide. Premierministeren eller et flertal i Knesset kan udskrive valg inden for en valgperiode, hvilket er sket en del gange siden maj 1948.
I henhold til samarbejdsaftalen mellem Likud og Blue and White (Israel Resilience Party), der var grundlaget for samlingsregeringen i 2020, skal der afholdes valg 36 måneder efter den officielle indsættelse af regering nr. 35, dvs. at d. 23. maj 2023 er den sidste mulige valgdato.
Da Knesset og samlingsregeringen ikke kunne blive enige om at godkende statsbudgettet for 2021 senest d. 23. december 2020, skal forsamlingen ifølge lovgivningen opløses og der skal udskrives valg til om tre måneder, da fristen for vedtagelsen af budgettet er overskredet.
Den nuværende forsamling (nr. 23) blev opløst. Regeringen fortsætter ind til valget som et forretningsministerium. Det bliver det fjerde valg i løbet af to år i Israel. Valgdatoen for valget til Knesset forsamling nr. 24 blev d. 23. marts 2021.
Samlingsregeringen blev dannet i maj 2020 efter lange og komplicerede forhandlinger mellem især Likud og Blue and White (Israel Resilience Party). Flere mindre partier var med i samlingsregeringen og den havde flertal i Knesset. Den har dog været handlingslammet meget af tiden og præget af stridigheder mellem især Likud og Blue and White (Israel Resilience Party) - i december og januar måned forlod flere medlemmer af de to partier deres parti (læs mere).
Som sædvanligt er der en del nye partier, der stiller op til valget. Flere partier indgår i valgalliancer og valgforbund for at undgå stemmespild. Spærregrænsen er på 3,25%, hvilket gør det sværere eller umuligt for de små partier og lister at komme ind i Knesset med mindre de går sammen med andre. Læs mere om de forskellige partier på Wikipedia (se Valglinks).
Tabellen herunder giver en oversigt over de partier og alliancer, der stillede op til valget, samt valgresultatet. Som det fremgår er der lidt færre partier og lister (39 registrede), der stillede op til valget denne gang i forhold til tidligere valg. Desuden er der færre valgalliancer denne gang, da de fleste partier foretrækker at opstille alene og ikke sammen med et eller flere små partier. Det var en medvirkende årsag til det politiske kaos efter de seneste valg i 2019 og 2020 (læs mere). Flere små partier opgav at stille op til valget (se under tabellen).
Parti/listenavn (2021)
Beskrivelse
Procent
Mandater
Hjemmesider
Likud (National Liberal Movement)
National Liberal Movement/Party - National liberalism, zionism, economic liberalism, secular center-right wing party.
24.19%
30

Likud (heb)




Likud (eng)

Yesh Atid (There is a Future)
Liberalism and centrism. Focus primarily on civic, social and governance issues. Secular middle class. Center party.
13.91%
17

Yesh Atid (heb)




Yesh Atid (eng)

Shas (Shomrei Torah Sephardim)
Sephardi Torah Guardians - ultra-orthodox religious Sephardic-Haredi political party. Haredi Judaism.
7.17%
9

Shas (heb)

Kahol Lavan (Blue and White)
Israel Resilience Party (L'Yisrael - Hosen L'Yisrael) - Zionism, Social liberalism, Centre-left/centre, "right when it comes to security issues, left when it comes to socio-economic issues, and liberal in economic goals".
6.61%
8

Blue and White (heb)

Yemina/Yamina (New Right party)
HaYamin HaHadash (New Yamin - The New Right party) - Open to both religious and secular people. Economic liberalism and belief in personal freedom. Religious and secular Zionism. Right-wing party.
6.21%
7

The New Right (heb)

Israeli Labor Party
Labor (Ha'Avoda). Mifleget HaAvoda HaYisraelit. Social-democratic and labour Zionist political party. Centre-left.
6.09%
7

Labor Party (heb)

Agudat Yisrael - Degel Hatorah (United Torah Judaism - UTJ)
United Torah Judaism is a coalition of two Ashkenazi Haredi ultra-Orthodox parties. Haredi Judaism. Non-Zionist.
1. Agudath Israel (The Israelite Union) - a sectoral ultra-Orthodox-Hassidic party.
2. Degel HaTorah (The Banner of the Torah) - a Litvak Haredi party, Lithuanian. Non-Hasidic Haredim.
5.64%
7
.
Yisrael Beiteinu (Israel Our Home)
Secularist and right-wing nationalist political party. Economic liberalism. Originally secular, Russian-speaking Israelis.
5.64%
7

Yisrael Beiteinu (heb)

HaZionut HaDatit (Religious Zionism alliance)
Political alliance of right-wing religious parties.
1. Religious Zionist Party (National Union-Tkuma, HaIchud HaLeumi-Tkuma) - Orthodox Jewish, religious Zionist, political party.
2. Otzma Yehudit (Jewish Power/Jewish Strength/Otzma LeYisrael) - Religious Zionism, anti-Arabism, far-right party.
3. Noam (Pleasantness) - Hardal (Haredi), right-wing political party. Religious conservatism. Against LGBT rights.
5.11%
6

Religious Zionist Party (heb)




Otzma Yehudit (heb)




Noam Party (heb)




Noam Party (heb)

Joint List (United Arab List - HaReshima HaMeshutefet)
Political alliance of three of the main Arab-majority political parties in Israel.
1. Balad - The National Democratic Assembly (NDA). Israeli Arab political party, democratic progressive national party for the Palestinian citizens of Israel, arab nationalism, anti-zionism, left-wing.
2. Hadash - The Democratic Front for Peace and Equality. Political coalition in Israel formed by the Israeli Communist Party (Maki) and other leftist groups. Radical left wing socialist movement, socialistic economy. Jewish-Arab.
3. Ta'al - Arab Movement for Renewal, Israeli Arab political party. Arab nationalism and Anti-Zionism. Centre-left.
4.81%
6

Balad (ara)




Balad (eng)




Hadash (heb)




Hadash (eng)




The Communist Party of Israel (CPI) (eng)




Ta'al (ara)

Tikva Hadasha (New Hope)
Former Likud members and Derekh Eretz party. National liberalism. Center-right. New party.
4.74%
6

New Hope (heb)




New Hope (eng)

Meretz
Meretz (HaSmol Shel Yisrael) - left-wing, social-democratic and green political party. Secular party emphasising a two-state solution to the Israeli-Palestinian conflict, social justice, human rights (especially for religious, ethnic and sexual minorities), religious freedom and environmentalism.
4.59%
6

Meretz (heb)

Ra'am - United Arab List (UAL)
Ra'am - United Arab List (Party). Southern Branch of the Islamic movement. Arab National Party. Islamism, Anti-Zionism, Religious and nationalist Israeli Arabs. Bedouin.
3.79%
4
.
HaMiflagah HaCalkalit Hadasha (The New Economic Party)
Socio-economic political party. Reform the education system. Anti-corruption. Centre-left. New party.
0.79%
0

New Economic Party (heb)

RAFA Rak Briut - Rapeh (heal)
Anti-vaccine activist Dr. Arieh Avni. 'Make Israel a healthier country'. New party.
0.39%
0

Arieh Avni (eng)

HaPiratim L'Democratia (Pirate Party of Israel)
The Pirate Party is connected to the global network of Pirate Parties that fight for Internet freedoms.
0.03%
0

Piratim (heb)

Ani VeAta/Ani V'Ata - Mifleget HaAm HaYisre'eilit (Me and You)
The Israeli People's Party. A Social-Liberal political party. Ani VeAta is a party focused on social issues and stand against the 'growing extremism in the right'.
0.03%
0

Ani VeAta (eng)

HaTikva LShinui (Hope for Change)
New party.
0.03%
0
.
HaMapatz HaHevrati - Gimlaim (Social Bang - Pensioners)
New Pensioners party headed by Danny Yatom.
0.02%
0
.
Mishpat Tzedek (Fair Trial Party)
Larissa Trembovler Amir. Obtaining a retrial for her husband and other prisoners, reforms in the legal system and better conditions for prisoners. LeReforma b'Maarechet HaMishpat u'l'shihrur Yigal Amir.
0.02%
0
Tzomet - Atzmaim, Haklaim, Kfarim (2019) (Junction)
Tzomet is a secular right-wing party. Economic liberalism, Agrarianism/Agricultural.
0.02%
0
Am Shalem (Whole Nation)
Headed by Rabbi Haim Amsalem.
0.01%
0
.
Seder Hadash L'Shinui (A New Order)
Party seeking to change Israel's electoral system to direct election of Knesset members instead of the current party system.
0.01%
0

Seder Hadash L'Shinui (heb)

Kama/KaMaH - Kidum Maamad HaPrat (KM"H Party)
Promoting the Rights of the Individual.
0.01%
0

KaMaH (heb)

Noam Kolman, Liron Ofri and Suli Walz HaBilti Efshari - Efshari (The Impossible - Possible)
New party.
0.01%
0
.
HaLev HaYehudi (The Jewish Heart)
Headed by Elie Joseph. Party want the State of Israel to express our people's values in its national policies.
0.01%
0

HaLev HaYehudi (heb)

Atzmeinu Atzmaim v'Liberalim (Ourselves Independent and Liberal)
New party.
0.01%
0
.
Gush HaTanachi (Bible Bloc Party)
Jewish-Christian (Evangelistic) party. Headed by Dennis Lipkin.
0.01%
0
.
Olam Hadash (The New World)
Secular liberal-technocratic. Innovative liberal-democratic new party.
0.01%
0
.
HaBrit HaMeshutefet - L'Memshelet Ihud Leumi (Common Alliance/The United Covenant)
New party.
0.01%
0
.
HaYisraelim (The Israelis party)
Headed by Tel Aviv Mayor Ron Huldai. New center-left party.
0.01%
0
.
Mifleget Shema/Shama (Listen)
Headed by Naftali Goldman. A more moral and kinder society. A more united Israel.
0.01%
0

Mifleget Shema (eng)

Da'am Mifleget Po'alim (Daam Workers Party)
"Green economy - one country/state" (Calcala Yeruka Medina Ahat). Daam is a communist party that aims to bring about the end of capitalism as a means to achieve social change. Revolutionary socialist Jewish-Arab political party. Marxism, Far-left.
0.01%
0

Da'am Workers Party (DWP) (eng)

Manhigut Hevratit/ Manhigoot Chevratit (Social Leadership)
Manhigut Hevratit is a party that is focused on personal economic struggles in Israel and want a broad electoral coalition in the Knesset.
0.01%
0
.
Ma'an Yahad L'Idan Hadash (Together for a New Era)
New moderate Israeli-Arab party. Previously known as the Arab Democratic Party - Mada.
0.01%
0
.
Hetz
.
0.01%
0
.
Anahnu (US)
Anahnu movement - a new Israeli consensus. Establishment of a new 'Jewish federal-democratic' constitution. New party.
0.00%
0

Anahnu (eng)

Kavod/Kevod/Kvod HaAdam (Human Dignity/ Respect for People)
The party promotes the idea of Israel as a Jewish and democratic state which should live in in security. Free economy, reduce social and economic gaps in Israeli society.
0.00%
0
Democratit - Heirut, Shivyon v'Arvut Hadadit (Democratic Party)
Anti-Netanyahu protesters. New party.
0.00%
0
.
Flere partier har i løbet af februar og marts måned meddelt at de ikke opstiller til valget eller de har trukket deres tilmelding: Israeli Veterans Party (senior citizens party, nyt pensionistparti), Tnufa (Momentum, nyt parti), The Israelis (HaYisraelim, nyt parti), The Jewish Home (HaBayit HaYehudi), Telem Party (Tnua Leumit Mamlachtit), Gesher, Pirate Party, Mishpat Tzedek (Fair Trial), Or HaShahar (grundlagt af Haifa's borgmester Yona Yahav, nyt parti), Unity Party (nyt parti), Ma'an Yahad (nyt moderat arabisk parti), Democratic Party og Zehut.
For flere partiers vedkommen skyldes det at de ikke har kunnet komme med i en valgalliance eller valgforbund med et eller flere større partier og dermed har de ikke en chance for at komme ind i Knesset pga. spærregrænsen på 3,25%.
Derekh Eretz er blevet en del af det nye parti New Hope (Tikva Hadasha). Partiet Gesher stillede ikke op men partiets ene medlem af Knesset stillede op på Likuds liste (og blev valgt ind).
Hovedtendenser ved valget
Valgresultatet må siges at være uafgjort og grundlæggende giver det de samme problemer som de tre tidligere valg - det bliver stadig svært at danne en flertalsregering (minimum 61 mandater) og dermed hvem der bliver den kommende premiereminister.
Yamina (New Right party), Israeli Labor Party, Religious Zionism alliance og New Hope gik meget frem i forhold til det seneste valg i 2020. Yesh Atid og Meretz gik lidt frem. Likud, Blue and White (Israel Resilience Party) og de arabiske partier (samlet) gik en del tilbage. For de traditionelle religiøse (ortodokse) partier som Shas og United Torah Judaism blev resultatet uændret og det blev det også for Yisrael Beiteinu og Gesher. Nye partier er New Hope og Otzma Yehudit mens Telem Party og Jewish Home ikke længere er repræsenteret i Knesset.
Fordelingen mellem de store grupper blev i hovedtræk følgende:
Højrefløjen: 50 pladser,
Centrum-venstre: 38,
Religiøse partier: 22,
Overvejende arabiske partier: 10.
I alt 19 partier er repræsenteret i Knesset. En oversigt over de nyvalgte medlemmer af Knesset nr. 24 (i alt 120) kan ses på Knessets hjemmeside.
Valgprocent: 67,4%. Ca. 1,5% af stemmerne tilgik partier og lister, der ikke klarede spærregrænsen, hvilket er højere end ved det seneste valg i 2020.
Regering nr. 36
Den kommende regering efter valget bliver nr. 36.
Den israelske præsident Reuven Rivlin mødtes efter valget d. 5. april med partilederne for at udpege en forhandlingsleder, der skal forsøge at danne en flertalsregering. Der kræves 61 mandater til en flertalsregering. Partierne forhandler allerede på kryds og tværs om hvem de vil pege på som forhandlingsleder.
D. 6. april mødtes de nyvalgte medlemmer af Knesset for første gang.
Den israelske præsident udpegede d. 6. april Benjamin Netanyahu fra Likud som forhandlingsleder, da flest medlemmer af Knesset pegede på ham (52). Andre pegede på Yair Lapid fra partiet Yesh Atid (47) og Naftali Bennet fra Yamina (7) mens de øvrige (14) ikke pegede på nogle.
Benjamin Netanyahu havde 28 dage til at danne en flertalsregering (fristen udløb d. 4. maj), hvilket ikke lykkes. Herefter havde præsidenten en runde med partilederne for at vurdere om der kunne udpeges en ny forhandlingsleder. Det blev Yair Lapid, som fik rollen som forhandlingsleder med mulighed for at danne en flertalsregering inden for den næste tidsfrist d. 2. juni (28 dage).
Hvis dette heller ikke var lykkes kunne præsidenten give mandatet til et hvilket som helst medlem af Knesset, der får 21 dage. Hvis det stadig ikke er muligt at danne en flertalsregering, vil præsidenten opløse Knesset nr. 24 og Israel skal afholde valg nr. 5 i løbet af lidt mere end to år.
Lige inden tidsfristens udløb lykkes det Yair Lapid at danne en bred samlingsregering (koalitionsregering) bestående af centrum-venstre og centrum-højre partier, et arabisk parti og højrepartiet Yamina.
Centrumpartiet Yesh Atid, som blev det næstestørste parti ved valget, har været villig til at lade Naftali Bennet fra Yamina blive premiereminister i første periode af samlingsregeringen og Yair Lapid, som leder Yesh Atid, skal være premiereminister i anden periode. Han vil være Israels udenrigsminister de to første år. Samlingsregeringen har formentlig et spinkelt flertal på 61 mandater bag sig men det er en meget ustabil regering, som hovedsagelig er enig om en ting: Benjamin Netanyahu skal ikke længere være premiereminister.
Israels 36. regering blev taget i ed d. 13. juni 2021 og hermed afsluttes længere tids politisk usikkerhed og dødvande. Samlingsregeringen med Naftali Bennet fra Yamina som premierminister og Yair Lapid fra Yesh Atid som udenrigsminister består af følgende partier: Yesh Atid, Blue and White (Israel Resilience Party), Labor Party, Yisrael Beiteinu, New Hope, Meretz, Yamina og Ra'am. Regeringen har kun 60 mandater bag sig mens 59 stemte imod (et medlem stemte ikke).
Naftali Bennet vil være premierminister de første 2 år, hvorefter Yair Lapid overtager posten.
Listen med de nye ministrer kan ses her på Knessets hjemmeside.
Samlingsregeringen er historisk, da det er første gang et arabisk parti støtter en regering i Israel. Ra'am, et arabisk parti som især beduiner stemmer på, får flere penge til sociale forbedringer i de arabiske/beduinområder mest i syd og flere bestemte lovændringer.
Valglinks 2021:
2021 Israeli legislative election - From Wikipedia
Party lists for the 2021 Israeli legislative election - From Wikipedia
Central Elections Committee
Arutz Sheva 7 Israel National News - 2021 Elections
HaAretz - Israel election 2021
Jerusalem Post - Israel Elections
Times of Israel - 2021 Israeli elections
List of political parties in Israel (Wikipedia)


Til toppen Oversigt Valget 2006 Valget 2009 Valget 2012 (afl.) Valget 2013 Valget 2015 Valget 2019 Valget sept. 2019 Valget 2020
---
© 2000-2021 CFR. Alle rettigheder forbeholdes. HTML-værktøj: Stone's WebWriter. DIF:

Forsiden

. Opdateret d. 9.6.2021